Panchkalyanak Pratishtha starts ​Feb 11th 2016
Mahamastakabhishek starts Feb 18th 2016
NRI's Kalasha Abhishek​ is on Feb 19th 2016
Shri Rishabhdevaya Namah
Panchkalyanak Pratishtha & Mahamastakabhishek Mahotsav of the highest standing Idol in the world carved out of single stone at the hills of Siddhakshetra Mangitungi in Maharashtra, India.
Dear Dharmabandhu​,
As you know there is going to be a historic event that will be held in February 2016 of the Panchkalyanak Pratishtha and Mahamastakabhishek Mahotsav of The Highest Idol in the World, constructed in Single Stone at the hills of Siddhakshetra Mangitungi - Maharashtra, India.
The 108 Feet Digambar Idol of Bhagwan Rishabhdev was the inspiration of Ganini Pramukh Aryika Shiromani Shri Gyanmati Mataji. The organizing committee has made it a point to attract overseas Jains (NRI's) from North America to this event and have made special arrangements for their visit and accommodations. This will be one of the largest Panchkalyanak Pratishtha and Mahamastakabhishek Mahotsav in the history for Digambar Jains.
Members of the ​NRI ​Yaatri's ​from North America ​should reach Mangitungi by February 17th, 2016 and will enjoy viewing the great event on February 18th, 2016. On ​the ​morning of February 19th 2016, group of ​​NRI's ​from North America ​will participate in Kalasha Abhishek.
If you wish to attend this auspicious event and participate,​ ​​please email your request along with your full name, names of any additional participants travelling with you, USA mailing address, email address, USA & India mobile number to ​MangiTungiNRI@gmail.com​ ​by Feb 1, 2016 for accommodations and additional info.​​​ Please note this special arrangement is limited only to NRI's.
Thanks & Regards
Rajeev Pandya
The Supreme Sadhvi of Jain​ ​Samaj Pujya Ganini Pramukh Shri Gyanmati Mataji​ ​gave the inspiration for the construction of 108 ft. high standing Idol of the first Tirthankar Bhagwan Shri Rishabhdev in a single stone of the Mangitungi Mountain in 1996 during her Chaturmas at Siddhakshetra Mangitungi (Nasik) Maharashtra, India.
Shilapujan was completed ​in 2002 and great continuous efforts are being made to complete this grand task. We cordially invite all of you for the​ ​Panchkalyanak Pratishtha & Mahamastakabhishek of this gracious​, ​matchless​, historical and the world's tallest single stone Idol of Digambar Jain Samaj from Feb 11th onwards.
Take Labh Become Indra-Indrani in this Historical
Panchkalyanak Pratishtha & Mahamastakabhishek Mahotsav
Amount to be Paid
S.No.
Number
Amount
1.
108 Indra-Indranis
Rs.1,00,000 ($1,650) for Each Pair
2.

1008 Indra-Indranis

Rs.51,000 ($850) for Each Pair
Amount for Mahamastakabhishek
S.No.
Name of Kalash
Amount
# of Members
1.

Ratna Kalash

Rs.

1,00,000 ($1,650)

7

2.

Swarn Kalash

Rs.

51,000 ($850)

5

3.

Rajat Kalash

Rs.

25,000 ($425)

4

4.

Bhakti Kalash

Rs.

11,000 ($180)

3

5.

Shradha Kalash

Rs.

5,100 ($85)

2
For First, Second & Third Special Kalashas & for Panchamrit Abhishek Kalashas, please contact on the mentioned Phone Numbers.
For the payment,
Name of Account: B.R.P.P.M. Samiti Mangitungi
Bank: PNB
A/C #: 3704002100007589 (IFSC Code - PUNB0370400)
Branch-Hastinapur

Bank: SBI
A/C #: 34736237114 (IFSC Code - SBIN0002353)
Branch-Hastinapur
Note:
After submitting the money in the bank, kindly inform with full details on the Cell Numbers given below.
Special

1.
In this amount of becoming Indra-Indrani, you will be provided the golden chance of doing Mahamastakabhishek, Lodging, Pujan-Samagri, Clothes
(of Indra-Indrani), Meals etc. by the committee.
2.
Colored photographs of all the donors of Rs.51,000 ($850) and more will be published in the Invitation booklet and also in the Granth, being prepared on the history of the Idol-construction. This Granth will be provided to each pair as a gift. Please send your photograph along with your acceptance.
3.
The Amount for Panchamrit Abhishek & various Kalashas will be published in the next publication.
4.
The Mastakabhishek will commence from Feb 18th 2016 after the completion of the Panchkalyanak on Feb 17th.
5.
Contact soon on given Mobile Nos. for becoming Main-Participants like Dhankuber, Yagya-Nayak, Eshan-Sanat Kumar-Mahendra Indra etc.
6.
Sadhu Sangh Sammelan, Bhattarak Sammelan, Vidvat Sammelan, Mahila Sammelan, Yuva Sammelan and Adhiveshans of National Jain Sansthas will also be organized at different times between the Mahotsav.
Gurunamguru Charitra
Chakravarti Prathmacharya
Shri Shantisagar Ji Maharaj
Inspirator of Idol Construction
Ganini Aryika-Shiromani
Shri Gyanmati Mataji
Listen Special Informations about
Mangitungi Panchkalyanak & Mangal Pravachans of Pujya Mataji on

3.30 PM Daily
9 PM & 6 AM
Daily
4 PM Daily
Guidance


Pragyashramni Aryika
Shri Chandnamati Mataji

Chairman


Karmayogi Peethadheesh
Swasti Shri Ravindra Keerti Swamiji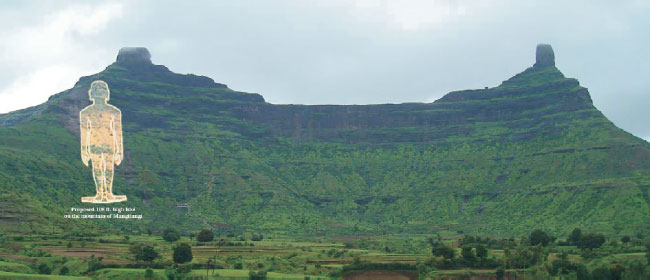 Attend this Golden Historical Mega Event Personally to Gain
​Incomparable​ Punya and to be a part of this history.

Chairman

General Secretary
Karmayogi Peethadheesh
Swastishri Ravindra Keerti Swamji
Jambudweep
Dr. Pannalal Papriwal
Paithan (Maha.)
Working Chairman
Treasurer & Maharashtra State Chairman
Anil Kumar Jain
Preet Vihar-Delhi
Pramod Kumar Kasliwal
Aurangabad (Maha.)
Cell: 09422206158
Vice Chairman
Secretary
Mahavir Prasad Jain
Bengali Sweets, Delhi
Kamalchand Jain
Kharibawli, Delhi
Engg. C.R. Patil, Pune
Sanjay Papriwal, Aurangabad
Vijay Kumar Jain, Jambudweep
Jeevan Prakash Jain, Jambudweep
Mahamastakabhishek & Swayamsevak Committee Chairman
Prof. D.A. Patil
Jaisinghpur
Cell: 09822531464
Bhagwan Rishabhdev 108 Ft. Vishalkaya Moorti International
Panchkalyanak Pratishtha & Mahamastakabhishek Mahotsav Samiti
P.O. - Mangitungi (Nasik) Maharashtra, India
Chairman Office - Digambar Jain Trilok Shodh Sansthan,
P.O. - Jambudweep-Hastinapur (Meerut) UP - 250404, India
Contacts for Mahotsav
Cell: 09717331008, 09457817324, 09411025124, 09403688133
Hastinapur office - 01233-280184, 280994 | Mangitungi office - 02555-286523